To Hate Like This Is To Love Forever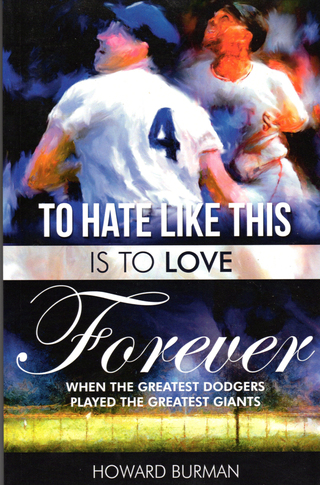 What if you had a chance to select and manage a team of the greatest Dodger players from throughout history against a team of the greatest Giants? Lukas has that chance and it will change him forever. "What matters isn't if something is real. What matters is if it is true."


By way of a quick "teaser" for the book, here are the teams as selected by the book's two main characters using the following criteria:

1. Only a player's contributions to the Dodgers and the Giants were considered (not career accomplishments).
2. Only players who were retired as of 2011 were considered.
3. To be considered a Dodger or a Giant the player had to have played more games for one of those teams than for any other team.

Dodgers
Gil Hodges,Jake Daubert, Jackie Robinson, Davey Lopes, Pee Wee Reese, Maury Wills, Ron Cey, Roy Campanella, Al Lopez, Duke Snider, Zach Wheat, Lefty O'Doul, Babe Herman, Pete Reiser, Carl Furillo, Many Mota, Sandy Koufax, Burleigh Grimes, Don Drysdale, Fernando Valenzuela, Nap Rucker, Orel Hershiser, Dazzy Vance, Don Newcombe, Jay Howell.

Giants
Bill Terry, Willie McCovey, Larry Doyle, Frankie Frisch, Jeff Kent, George Davis, John Ward, Matt Williams, Darrell Evans, Roger Bresnahan, Buck Ewing, Willie Mays, Barry Bonds, Mel Ott, Ross Youngs, Bobby Bonds, Christy Mathewson, Carl Hubbell, Juan Marichal, Tim Keefe, Gaylord Perry, Rube Marquard, Joe McGinnity, Freddie Fitzsimmons, Rod Beck.